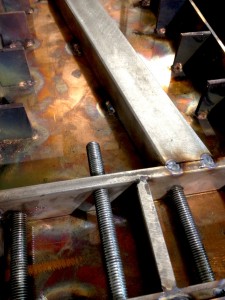 About Magmafirepits
Andrew Webb is a designer, artist and maker with 20 years of specialist experience using steel, stainless steel, bronze, aluminium, corten, cast concrete and glass.
As well as  contemporary firepits Andrew makes sculpture and bespoke work such as staircases, furniture and architectural metalwork.
Hailing from London Andrews interest in making started from an early age carrying on into a multidisciplinary BA arts course.
Whilst establishing himself as a maker Andrew set up workshops in London making theatre props for the English National Opera amongst others. This progressed into learning metalwork while working freelance for various production companies.
Andrew soon was making metal and wood furniture for private clients and architects, progressing on to public art commissions and sculpture fabrication for established artists and himself.
He is now based in West Sussex. His work other than fire pits is often concerned with sculptural forms and celebrates the qualities of the material. Andrew prides himself in the quality of the work and on customer satisfaction. Andrew is also growing Oak and Sweet Chestnut saplings to be given away with the fire pits.
This is the bespoke metalwork site magmasculpture.co.uk
This is the site for work in progress and photography that inspires me!